Naiknavare Developers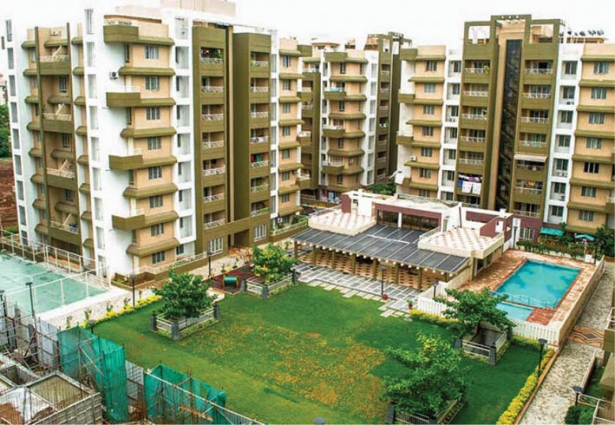 The mere mention of Goa conjures up some of our best holiday memories and our secret wish of living here forever. Its pristine beaches, frenzied nightlife and laid-back charm makes it the most preferred choice of tourists not just in India, but across the world. The charm of Goa is undeniable and its magic undiminished.
Naiknavare Developers, one of Pune's leading builders, offers a dream, resort-like home in the dream destination of Goa. Esmeralda is located on the Kadamba Plateau near Panaji. Spread across 10 acres, it has residences of all sizes on offer – studio apartments, 2 & 3 BHK apartments and 3 BHK row houses.
Esmeralda – which means Emerald Green – is a landmark of epic proportions, conceived as a magnum opus of science and aesthetics. It balances the four elements in perfect sync for perfect living – wind, water, sky and earth. The gentle breeze caresses the many water bodies interspersed across Esmeralda and imparts a cooling effect all year long. The open spaces and uninhibited surroundings give its residents a surreal feeling of endlessness. And ultimately, with 30 per cent of the total acreage of Esmeralda dedicated to greenery, the project truly lives up to its name. This is 'resort living' at its best.
The upcoming Kadamba Plateau on NH4 is witnessing the growth of hospitals, schools and an IT park close by. Naturally, infrastructure is also getting a face-lift. There are also plenty of shopping and entertainment ventures nearby.
With Miramar and Calangute a short drive away, Esmeralda gives you the right mix of modern living and old world charm.
Esmeralda is 7kms from Panaji bus stand, 3kms from Old Goa, 10kms from the nearest industrial estate (Corlim), 5kms from the closest railway station (Karmali), and 7kms from Goa Medical College. Tourist hotspots of Calangute, Candolim and Fort Aguada are just 20 minutes away, while the airport is half an hour by car. Phase 1 at Esmeralda is nearing completion. And to add to your convenience, Naiknavare Developers is offering an irresistible offer with exclusive 23 plots with plug and play option.