Home on a Hill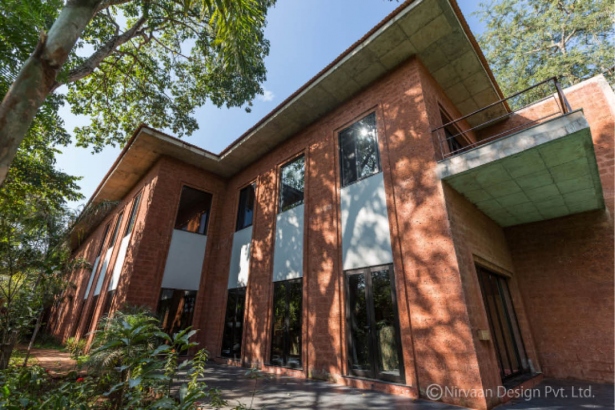 Resting on a verdant slope in Moira, north Goa is interior designer and ever evolving aesthete Vikram Goyal's house that speaks volumes with its rugged laterite walls as ornamentations and high design
Photo credits: Nirvan Design Pvt. ltd.
Vikram Goyal was keen on capturing views of the riverine landscape, adjacent church and lush greenery along the eastern and northern boundaries of the plot in Moira, north Goa. An important requirement was to orient spaces overlooking the north and east to offer privacy from an adjacent towering building to its west. He was keen to use a vernacular aesthetic, high interior volumes and a sense of symmetry in the interior elements and spaces.
It was a linear plot, so the building had to be integrated into the natural slope, responding to the regional context of climate and architecture, making it blend-in, look natural and create a transitional experience from the vernacular to contemporary in a very subtle way.
Goyal understood and supported ideas to use locally available laterite stone, traditional construction methods using load-bearing technology and also encouraged use of specific details to enhance the overall design.
His need for symmetry, nuances of detail, large interior volumes, natural surfaces and use of elements of Goan architecture were translated by exploring different possibilities without conventional limitations. Active participation from him in all stages of design and construction with constant revisions helped improve the final product where art meets architecture eclectically.
Read the full article in 'Viva Goa' magazine copy.

Viva Goa magazine is now on stands. Available at all major book stalls and supermarkets in Goa.