Ashray Real Estate Developers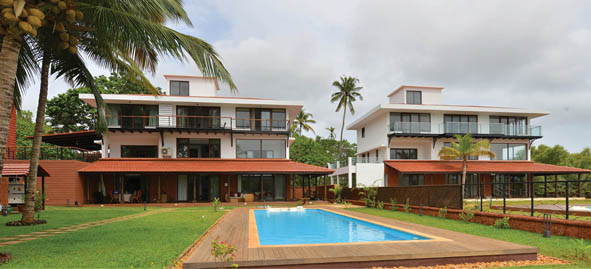 Ashray Real Estate Developers is a construction and development firm, that has successfully constructed several works of unparalleled quality and distinction and has done so, since 1995. Ashray's forte has always been quality, couple that with luxury and voila!

Every detail within Ashray's projects has been thoughtfully designed and planned meticulously ,by some of Goa's finest architects and backed by equally competent civil engineers and contractors. This results in the creation of some of the best villas that have been offered in this land of the sea and the sands. Ashray Real Estate Developers is headed by Girish Ragha, who is a Civil Engineer by profession, while his wife Ashwini is an outstanding architect of most of their projects.
Ashray's team is reliable and customer friendly and have gained a reputation amidst the clients for being an ethical and value driven organisation with the ability to conceptualise and execute excellent residential and commercial projects which are easily absorbed in the market. They do not settle for anything less than the best be it in design,construction, finishes or service. Ashray business mantra is of providing quality, functionality and luxury in every sq ft of their construction. They believe in a constant process of growth and implementation of new technology in their constructions.
Ashray Real Estate Developer's consistently strives to serve the customer by meeting various market challenges and developing projects in sync with changing scenarios. Ashray Real Estate Developers is the epitome of innovation and success in realty space and strives to set a new benchmark in all their projects.
Latest technology, ethical business values and an uncompromising attitude towards quality are helping them outperform other realty players and it is these core values that have earned them the instant approval of high end buyers as well as investors. However, it is their customer friendly business policies which sets them apart from their peers.
Under their achievement belt are projects like 'Nyassa', 'Aquamarine', 'Belvederre', 'Tranquille' and 'Symphonny', which stand as a proud statement of their premium quality construction and promised exquisite luxury.
Some of their up-coming and current well-known projects are Camelotte' is a residential apartment and villa project comprises of two, three and four BHK units that overlook green fields, situated at Reis Magos. The development contains facilities like a security surveillance, gymnasium & swimming pool which offer's healthy lifestyle options for its residents.
'Daffodille' is a studio and one BHK apartment complex located at Pilerne-Marra. The manicured central court is designed at three levels and includes a children's play area at the lowermost level, followed by the interactional leisure lounge with the swimming pool overlooking the blissful cascading water feature, and the recreational clubhouse/gymnasium at the topmost level.
'Tres' consists of three well-articulated, spanish-inspired designer villas that will be know for its own distinct character and it's extraordinary charm, located at Sangolda. Each Villa offers it's own private lounge spaces by the pool as well as private gardens, giving the owner's of these beautiful villas the feeling of sheer happiness and serenity, right at their very homes.