Talking Cricket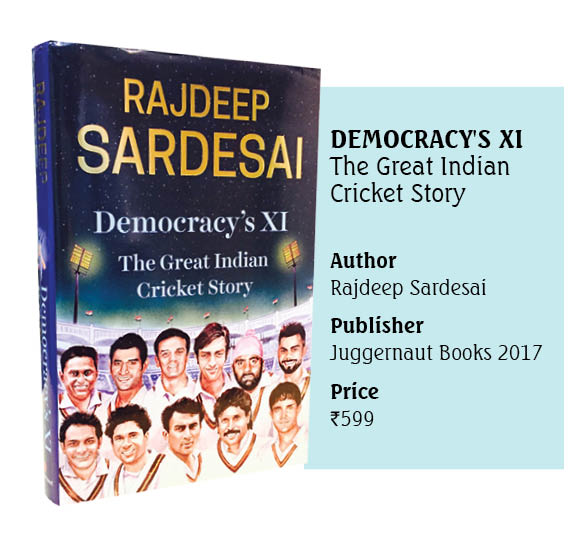 Famous TV journalist and bestselling author Padma Shri RAJDEEP SARDESAI returns to writing with a new book, this time on cricket. Democracy's XI features his favourite players from the time of his father, the late Dilip Sardesai, the only-Goa born Test cricketer, and includes two 'Little Masters' whose religious roots trace to Goa, Sunil Gavaskar and Sachin Tendulkar
In India, cricket is a religion. It binds people across the country, no matter what religion, region, or political affiliation they belong to. One can't imagine India without cricket, nor cricket without India. Such is the power of this amazing game.
People throng stadia to witness nail-biting T20 matches, whether they are internationals or league games. Spectators need entertainment and these 'short version cricket matches' provide it in plenty. Boundries and sixers, tons of runs, intelligent bowling, big screens, fancy flood lights, cheer girls and packed stadia, it is 100 per cent entertainment. 'Paisa vasool', as they say.
However, this scenario was unimaginable about six decades ago. Back then the only international version played was Test matches which lasted six days with one day of rest. Cricket then was poles apart from the way it is today, played in a totally different way. It has changed drastically from being a sport which was primarily about honour to bank balances. It is no longer a passion, but a high-earning profession.
Top Indian journalist and author Rajdeep Sardesai's latest book 'Democracy's XI – The Great Indian Cricket Story' aptly narrates this metamorphosis of Indian cricket – the Test cricket era of the 50s and 60s, the growth of one-dayers in the 80s and the advent of T20s in the current millennium.
In the pre-Independence era, cricket was mainly patronised by princes and the wealthy elite. Later, there was a long phase of dominance of the metros like erstwhile Bombay and Delhi that held sway over its popularity. Now, the sport has percolated to every nook and corner of the country, where talent and future promise is enough for any budding cricketer to dream of an India cap.
Read the full article in 'Viva Goa' magazine copy.

Viva Goa magazine is now on stands. Available at all major book stalls and supermarkets in Goa.