Personal Style Guaranteed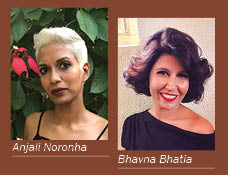 Panache and confidence are thrown in with expert creativity at Li'l Red Door in Porvorim
Style is more than the brands you wear. It's your first impression, the little details and the confidence you carry that sets you apart. All you need is a little push to give you that boost. You'll find that push no further than the Li'l Red Door in Porvorim.
Don't let its simple exteriors belie the creative passion that powers through this beautifully converted old Goan home by the highway, spotted easily by its bright red wooden door just off the road. Li'l Red Door was launched in October 2015 as a unisex studio for customised hair and make-up services by Anjali Noronha, and has now expanded to include tailored skin care and cosmetology consultations too under the expert eye of Bhavna Bhatia.
Both are strong, talented women in their own right and together create a powerhouse of beauty and confidence for the modern client. Noronha has trained with Nalini (of Nalini & Yasmin, Mumbai) and top US aesthetics consultant Christine Valmy before studying cosmetology at the noted Sassoon Academy in LA. She has also worked with photographers in California, assisted Mumbai-based make up artist Elton Fernandez, managed salons and taught for Bounce and BBlunt, and then quit it all to start Li'l Red Door.
Read the full article in 'Viva Goa' magazine copy.

Viva Goa magazine is now on stands. Available at all major book stalls and supermarkets in Goa.