CHARLES CORREA: 'Architecture is its own Reward'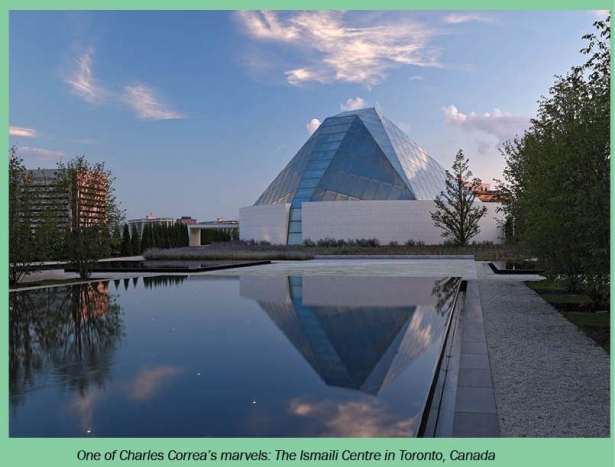 Acclaimed by critics and peers alike as an architectural genius of line and balance,CHARLES CORREA's sweeping concepts thrust him into the limelight as India's pioneer architect – as well as an international figure. In 2006, the eminent Goan was honoured with Padma Vibhushan, India's second highest civilian award. VIVA GOA reproduces some of our interviews with him over the last five years. He speaks to award-winning journalist Patricia J Pereira-Sethi
As a Goan, where do you see urbanisation and architecture heading in Goa? In 1972, you cautioned against "hideous ribbon development" and the "continuous erosion of our tropical jungle". Do you believe we have fallen precisely into that trap? How do we alter such a trend?
Market forces are playing the predominant role in India today – and Goa is drowning in the surplus money sloshing around in urban India. There is an infinite amount of money pouring into a limited landscape and this will strangle us. Overbuilding without a solid plan, without an infrastructure to support it, will help us self-destruct over time – if we don't stand up and be counted. Look at the overwhelming number of vehicles on the narrow roads, look at the traffic jams, the water and electricity problems heaping down on us. We have row upon row of gated communities, destroying the values we once held so dear. When you retreat into your gated communities, you fragment the sense of community that even the sprawls of slums have. You splinter the sense of connection with others. Is this what the new Goa wants to become?

The Aga Khan Museum and Ismaili Centre in Toronto opened in September to paeans of praise: the chorus continues about your Prayer Hall, with its soaring crystalline frosted steel and glass roof which glows at night. What motivated you to design this, your latest project?
Well, it isn't my latest project. I won the competition to create the Ismaili Centre back in the year 2000. The Aga Khan decided to build for the Ismaili community in Canada a major new Jamatkhana, a community centre, which would be their spiritual home, reflecting the aspirations of the Ismaili people as they left Africa to settle in their new country, Canada.
So I knew that the building had to express the special culture that they brought with them – and also the culture and values of their new country: Canada. It had to be a building that not only the Ismailis, but the whole of Canada, would be proud of. Only then would the Ismailis become an integral part of their new nation.



Read the full article in 'Viva Goa' magazine copy.
Viva Goa magazine is now on stands. Available at all major book stalls and supermarkets in Goa.