THE GOAN VOICE OF BIG B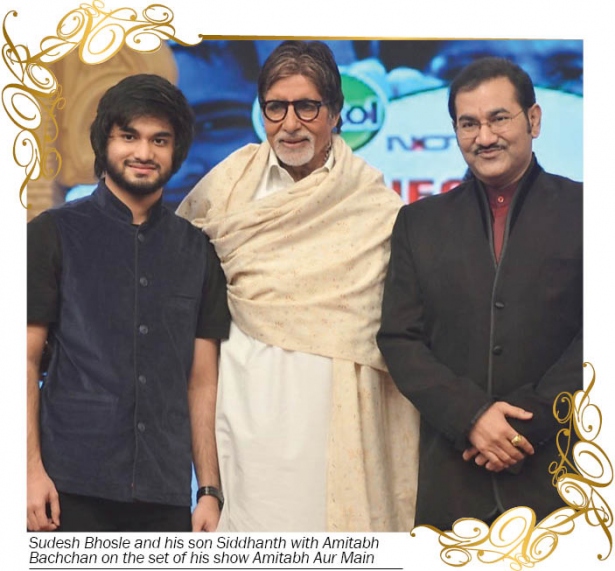 Leading Mumbai-based Bollywood playback singer Sudesh Bhosle of 'Jumma Chumma De De' fame traces his journey from an orchestra singer to being Amitabh Bachchan's voice in an exclusive interview with Manish Karapurkar
He is the voice behind Jumma Chumma, Shava Shava, Makhna and many other hit songs of legendary actor Amitabh Bachchan. When Big B heard Sudesh Bhosle's voice after their first film Ajooba, he said, "Arre bhaiya, hamari awaje to milti julti hain. Mujhe pata hi nahi chala yeh gana maine kab gaaya."

Born to a musically inclined family hailing from Shiroda in Ponda, Goa. Bhosle has sung in more than 50 films including recent movies like Vivah, Joggers Park, Company and a few Bhojpuri films.
Yet people still believe he sings only for Amitabh Bachchan.

Bhosle's voice has often been mistaken for that of Big B's and taking this forward, the veteran singer has conceptualised an ode to the legend, Amitabh Aur Main, a musical show which his entire family is part of. He is also due to release a new song Tere Sai Mere Sai with his son Siddhanth who is also taking after the family's immense talent. Viva Goa has a chat with legendary singer Sudesh Bhosle…

You are often referred to as the 'voice of Amitabh Bachchan'. What was his reaction when he heard your voice for the first time?
I sang for Amitji in the film Ajooba. Renowned music directors Laxmikant Kudalkar and Pyarelal Sharma (Laxmikant-Pyarelal) gave me my first break to sing for Amitji.
When he heard the song, he told director Sashi Kapoorji that he would like to meet me. When we met, he said 'Arre bhaiya hamari awaje to milti julti hain. Mujhe pata hi nahi chala yeh gana maine kab gaaya' (Our voices match. I did not realise when I had sung this song!). He told me that I had sung it very well and that we would work together for long.



Read the full article in 'Viva Goa' magazine copy.
Viva Goa magazine is now on stands. Available at all major book stalls and supermarkets in Goa.