Post Politics: Delhi to Goa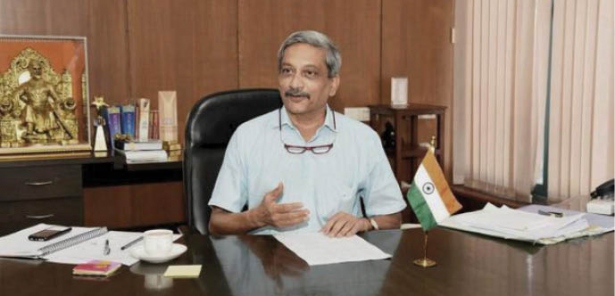 In an unlikely twist, Manohar GOPALKRISHNA PRABHU Parrikar sacrificed one of India's most important ministerial positions as defence minister to return to Goa as chief minister for the fourth time. His tenure at the centre shone with achievements and it appeared he had a glorious future set out for him. Yet, when home called, he never wavered. The state's most famous politician speaks to VIVA GOA about his stint in Delhi including the famous surgical strike and his dream for a Golden Goa
The return of the prodigal son would be an apt way to describe Manohar Parrikar's fourth innings as chief minister. But it didn't quite go according to the prodigious script he himself would have liked to draft.
He didn't ride back on a victory chariot with his guns blazing, but through astute backroom politics. Chanakya won, but the emperor didn't quite win.
But what made defence minister Manohar Parrikar give up the high seat of office, from the highest echelons of power, from having India as a footprint, to return to Goa? Simply put – his love for family, friends and fish notwithstanding – it was only to protect the Bharatiya Janata Party's (BJP) bastion, and repair and resurrect both party and government, in order to be battle ready for the national elections in 2019.
Parrikar gave up his seat in the Cabinet Committee on Security (CCS), the highest
decision-making body in the country and ejected himself from the list of five most powerful politicians in India. He now returns to micro-managing the inner workings of a state government with all its minute power play in the legislature.
His responsibility has certainly shrunk manifold – from a defence budget of `3,50,000 crore that looked after the safety of a country spanning 3.2 million square kilometres to a state budget of just `16,270 crore for a territory with an area of barely 3.7 thousand square kilometres. But for Parrikar, there is equal importance to both, perhaps more for Goa which is 'home' and holds all he considers dear.
He discusses his tenure at the centre and his plans for the state with an exclusive interview at his official residence 'Mahalaxmi' in Altinho, Panaji.
Read the full article in 'Viva Goa' magazine copy.

Viva Goa magazine is now on stands. Available at all major book stalls and supermarkets in Goa.