EDC opens new south Goa branch at Margao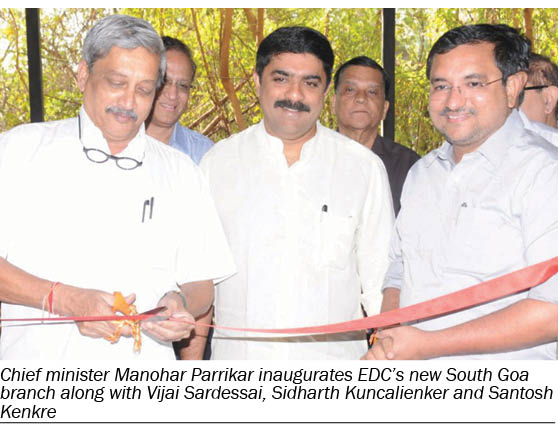 The Economic Development Corporation (EDC) recently opened a branch office in Margao for residents of South Goa so its schemes can be easily accessed particularly by those living in distant talukas.
Chief minister Manohar Parrikar inaugurated the premises located at L & L Building, next to the south Goa Collectorate. He said, "Development will be undertaken throughout Goa. The government is serious in setting up offices in south Goa too, as it is beneficial to the government. The pressure on road network will
Minister for Town and Country Planning Vijai Sardessai, leader of opposition Babu Kavlekar, Margao MLA Digambar Kamat, member of Parliament Vinay Tendulkar and chairperson of Margao Muncipal Council Babita Prabhudessai were the guests of honour. EDC chairman Sidharth Kuncalienker, vice chairman Santosh Kenkre and managing director S V Vernekar were also present.
Initially, the focus of the new branch will be on full-fledged implementation of the Chief Minister's Rojgar Yojana (CMRY), a government-sponsored
self-employment scheme. EDC has been successfully implementing this scheme since 2001 and has already financed more than 6500 beneficiaries to the tune of more than `135.00 crore.
The success rate of these units is reflected in the high recovery rate of
93 per cent.
Over the years, EDC has also played a pioneering role through its joint ventures and subsidiary companies in engineering, pharmaceuticals, electronics, auto industry, information technology and others.
The development of Patto Plaza is yet another testimony of its versatility. The corporation is now in the process of setting up an incubation centre for start-ups as well as a convention centre at Dona Paula.