Setting Course For Success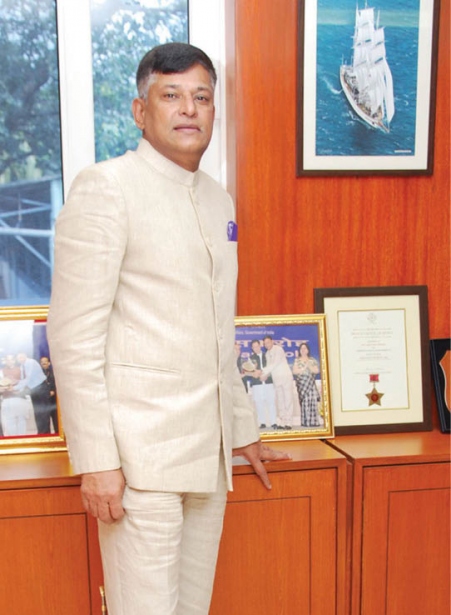 Chairman and Managing Director of Goa Shipyard Ltd Rear Admiral Shekhar Mital has turned around the fortunes of the state's foremost ship building venture and hopes to create more employment opportunities for locals
He took one of India's foremost shipyards on Feburary 01 2014 and has turned it on its head. Admiral Shekhar Mital brought with him, more than three decades of varied experience with the Indian Navy to Goa Shipyard Limited (GSL) and within a year at the helm, transformed it to a leader amongst other PSUs and shipyards in the country.

Established in 1957 as a Government of India Undertaking, GSL has been one of four shipyards under the aegis of the Ministry of Defence. It has supplied more than 203 warships and 126 boats to the Navy, Coast Guard, Marine Police and various state governments in the country. GSL is also the largest exporter of ships from India and is presently executing multiple export orders for various friendly countries.

As its Chairman and Managing Director, Admiral Mital is credited to have turned around the shipyard, within a year of taking over. He has worked relentlessly with the Ministry of Defence, Navy, Coast Guard, Ministry of home affairs and other countries to bring new projects to GSL, and thereby help turn around the fortunes of the shipyard. A veteran with more than two decades of experience in ship building, design and defence policy, Adm Mital has led GSL as its Chairman from front since February 2014. The shipyard has seen outstanding results with his dynamic policies, involved management and visionary leadership.

Admiral Shekhar Mital spelt out to VIVA GOA the reasons for GSL's fine performance in varied areas that differentiates it from other shipyards in the public and private sectors.


Read the full article in 'Viva Goa' magazine copy.
Viva Goa magazine is now on stands. Available at all major book stalls and supermarkets in Goa.