Mystic in the world of art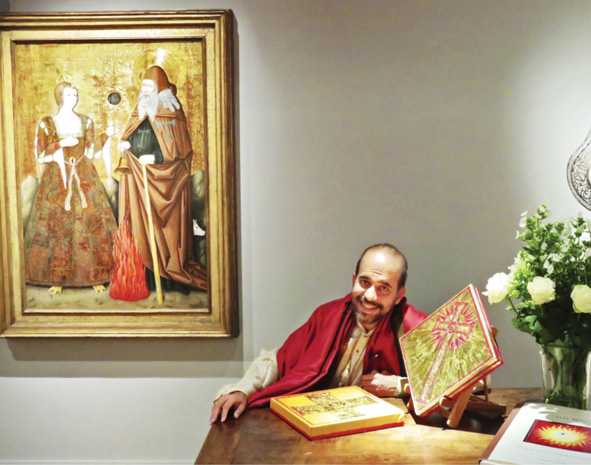 Art historian Prof Shubhada Godbole speaks to renowned Indian spiritual artist of Goan origin UDAYRAJ GADNIS, currently based in London, who recently showcased his medieval painting depicting the sun at England's prestigious art exhibition Masterpiece London 2016
Masterpiece London celebrated it's seventh year of great art. It is now firmly established as one of the most important and significant events in the world of art, antiques and design. Every summer, international collectors and representatives of museums flock to the vast grounds of the Royal Hospital Chelsea in excited anticipation of the outstanding art works that will be offered at the fair. A world-class forum for the exchange of knowledge and experience, it is neither an event nor a fair. It is an experience!

Visitors are treated to an extraordinary collection of the finest in visual arts, design and antiques created by brilliant creative minds all under a massive designer tent roof. The quality of this array inspires new perspectives for all who have intense passion for the best in visual art. One can definitely not see or grasp everything in a single visit; every revisit is an eye opener to a different appreciation of art. The seriousness and integrity of this mega art experience is unparalleled in the contemporary art world.

The most fascinating aspect of this year's masterpiece show unfold on the preview patrons' night was a rare gem by famous Indian artist of Goan origin Udayraj Gadnis, founder of the Spiritual Art Movement. His two paintings titled Sun (Medieval and Renaissance) are done on a 24-karat pure gold 12x12 block with crushed ruby paste and have had many visitors waiting patiently for a glimpse.

Udayraj Gadnis speaks exclusively to VIVA GOA about his journey of mystic art and spiritualism.


Read the full article in 'Viva Goa' magazine copy.
Viva Goa magazine is now on stands. Available at all major book stalls and supermarkets in Goa.