'GOA USED TO BE HEAVENLY'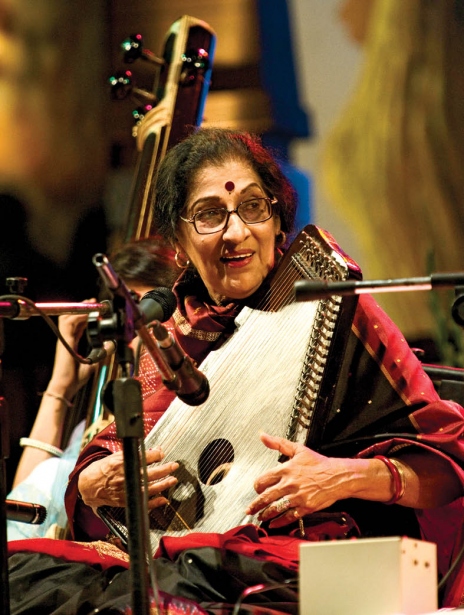 Recipient of India's second highest civilian honour the Padma Vibhushan, Gyana Saraswati, KISHORI AMONKAR was a legend among the pantheon of Indian Classical vocal music. Her death earlier this month has left a hole in the hearts of many in her home state of Goa and across India. The nightingale was a recipient of many awards, including the Lifetime Achievement Award at the inaugural Navhind Times VIVA GOA Goan Achievers' Awards 2011. We feature our earlier interview with her in which she looks back on a Goa of the past, childhood, memories of her legendary mother renowned singer Padma Bhushan Mogubai Kurdikar and her musical evolution
What are your childhood memories of Goa?
I have many memories of my childhood and Goa is a central part of it. In the old days, during our month long school vacation my mother used to bring all three of us – my sister, brother and me – to Goa. The train would take us to Sanvordem. From Sanvordem where my aunt used to live we would go to Kurdi, a little beyond Sanguem, on a bullock cart. It would usually be early dawn, around 4am by the time we arrived. And I still recall the sound of the bells around the bull's neck on the narrow road lined by big kangla trees.

In my whole life I haven't seen a village as exquisite and beautiful as Kurdi was. That was before 'progress' overtook us. There were around 40 displaced villages which were acquired for the Selaulim Dam project. Our 17-room house was taken by the government for which at that time we received only a paltry sum of
`36,000. And that was my mother's ancestral house surrounded by mango trees, pansa, muska, ambade, saylee and many others. All this has gone. Then our Lord Ravalnath was removed from that place because it was going underwater and kept in Valkini. We used to go every year and celebrate Prathishthapana Din. After that, we built a small house in Kakodem and we used to go there every year.

Tell us something more of your ancestral home in Kurdi
At that time Goa was heavenly, full of big green trees and birds chirping in different languages. This is my memory of childhood and it was the saddest moment of my life when I heard that the Kurdi I knew was no more. My mother belonged to that place. That is why she was known as Mogubai Kurdikar. My mother was not well recognised during her time in Goa and I feel very bad about that. She was, however, recognised as one of the best musicians of Maharashtra.

But that was the most beautiful place. There was a temple right at the top, our house was at the lowest level with a beautiful river that flowed by. On its banks were mankume trees with red flowers that appeared like garlands which fell into the river. They floated past like a carpet. I was schooling at that time. It was all so natural, beautiful and so true. Goa then was true in all its senses. These are my memories.

Read the full article in 'Viva Goa' magazine copy.
Viva Goa magazine is now on stands. Available at all major book stalls and supermarkets in Goa.