Cross-country cupid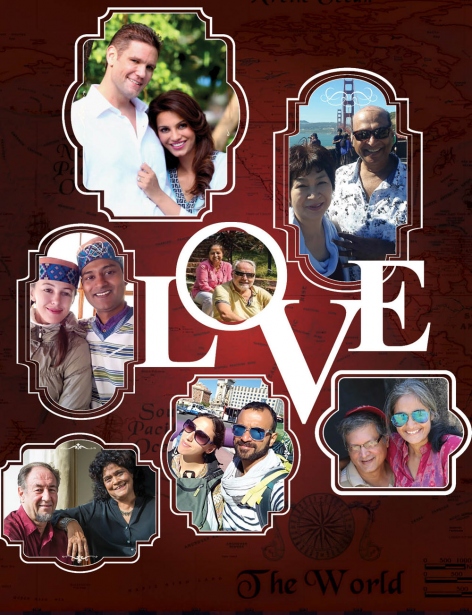 As vitriolic reports of hate between communities across the world swarm our media, VIVA GOA rediscovers the beauty of love that has no boundaries as multi-cultural couples – of which one partner is Goan – share their stories of commitment, dedication and passion with us
Today is a tumultuous time, when globally, politics tarnishes society and conservatives gain solid
ground. It is not hard to find reports of hate crime, racism and regionalism on a local level in any country –
under-developed, developing or even developed. In this venomous cauldron, it is a breath of fresh air to hear stories of love that transcend boundaries – political, geographical, social and religious.
Indian society often radiates undercurrents of disapproval of love between people of different castes, let alone religion or nationality. Goa less so, but it would be foolish to say the sentiment was completely non-existent. Despite the unfavourable vibe, a number of couples have looked past society's issues and thrived. So how did they do it?
We chose Miss World 1997, actress and supermodel Diana Hayden and her husband
Collin Dick to be our celebrity couple as the former was recently chosen as brand ambassador of a high-end luxury real estate project Estilo Patio by Estilo Moderno in Sancaoale, Mormugao.
The duo met in 21st century fairytale fashion. Hayden, who was relocating to the US on work, leased out her apartment in Mumbai for the time she would be away. Who should be her tenant, but the charming Collin Dick?! The American was moving to the bustling Indian city on work and found both her home and her perfect.
In September 2013, the couple exchanged vows in a dreamy three-day ceremony in Las Vegas. Hayden, who possibly foresaw hearts in her future and froze her eggs eight years ago, delivered the couple's baby girl Arya
But it's not just stars who find partners that light up their lives. Beatriz Milla came to Goa from Spain in search of tropical sunshine, a space to learn English and good natured people. She found all three, in addition to the love of her life Felly Gomes. Together, they run an NGO Live Happy in Assagao and Milla is most comfortable saying, "Hanv Assagaonkar!"
Japan and India found common ground in France when Tomoko Mikada and Michael Lobo met. Among ancient Roman ruins in Carcasonne, Lobo decided to take their meeting on tour a little further and invited her to experience a bit of his world. She stayed, and now finds Goa a space to relax in after giving up the bustling city life of Tokyo.
Read the full article in 'Viva Goa' magazine copy.

Viva Goa magazine is now on stands. Available at all major book stalls and supermarkets in Goa.