Fairytale that sparkles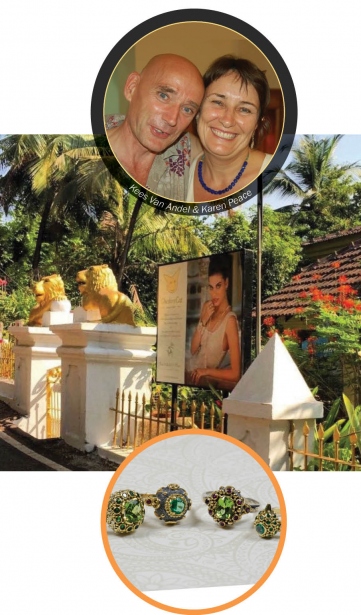 A Dutchman and an Englishwoman come together to create a dazzling life in Goa with their jewellery outfit in Assagao – Cheshire Cat
Nestled in the quaint village of Assagao, North Goa, is a house that holds a treasure of dazzling jewellery. Following no set rules and confined by no boundaries, the jewellery is designed by fine craftsmen right here in Goa but has a history that comes from halfway across the world.
Kees Van Andel and Karen Peace, both creative souls, met in Amsterdam in the 80s where they opened a jewellery store. But as time wore on, the couple found themselves looking for a qualitative
life change.
Inspired by a core group of dedicated artisans that called Goa their home, the husband-wife duo took the plunge
and left Amsterdam to re-establish their business as 'Cheshire Cat' in Goa in 2004.
Read the full article in 'Viva Goa' magazine copy.

Viva Goa magazine is now on stands. Available at all major book stalls and supermarkets in Goa.