IN SERVICE OF HEALTH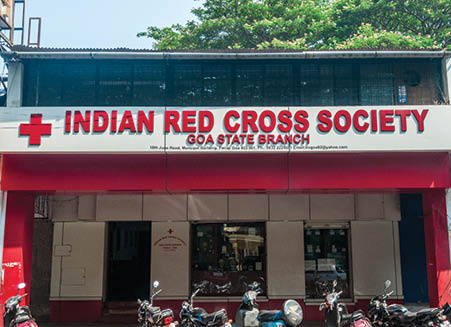 RED CROSS has for long been associated with medical aid during times of war or natural disasters, however, the International Red Cross Society's work is not just restricted to times of emergencies. The Goa chapter of the INDIAN RED CROSS SOCIETY (IRCS)in Panaji regularly conducts many activities that seek to provide medical help to those who need it
The Goa Chapter of Indian Red Cross Society (IRCS) was started on March 22, 1963 with Shanti Sivasankar appointed as the first president of the Goa, Daman and Diu Branch. She then had the privilege of nominating the first managing committee.
Today, the Goa Chapter is headed by its chairman Gaurish Manohar Dhond. He says, "The Red Cross is associated with medical relief in times of disasters and emergencies, and in fact during the Uttarakhand flood disaster last year, our chapter collected `1,01,000 towards the Chief Minister of Goa's relief fund. However, we also have a slew of activities that we run on a day-to-day basis."
The Goa Chapter regularly runs activities like the immunisation clinic at its premises on 18th June Road in association with the Directorate of Health Services on Mondays and Thursdays, first aid courses for the corporate sector and starred hotels. "Besides this, a doctor is also available on prior appointment basis on any two days of every week," says Dhond. They also have two initiatives, the Junior Red Cross and Youth Red Cross activities as part of the curriculum for schools and colleges respectively.
Read the full article in 'Viva Goa' magazine copy.
Viva Goa magazine is now on stands. Available at all major book stalls and supermarkets in Goa.