BMW presents sheer driving pleasure with Experience Tour 2015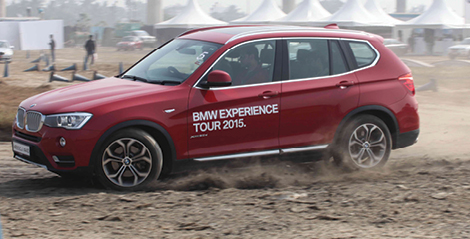 BMW India has launched the second edition of its BMW Experience Tour in India. Beginning with Kolkata, the tour will demonstrate the dynamism, versatility and high performance of the entire BMW product portfolio in 18 cities across the nation.
After Kolkata, the tour will touch Raipur, Nagpur, Surat, Ahmedabad, Gurgaon, Chandigarh, Jaipur, Mumbai, Pune, Indore, Vijayawada, Hyderabad, Chennai, Bangalore, Kochi, Delhi
and Lucknow.
BMW Experience Tour 2015 is designed to provide customers a platform to experience the BMW brand, test drive vehicles and interact with product experts. Customers will have an opportunity to experience the complete range of BMW sedans and sports activity vehicles on a specially designed course.
President of BMW Group India
Philipp von Sahr said, "BMW Experience Tour provides our customers a
first-hand experience of the exhilarating performance and superiority of BMW vehicles in a challenging and exciting environment. They are able to appreciate the versatile capabilities, technology, safety systems and features of our cars in detail. Apart from having fun on the test track, they also benefit from the professional advice of the BMW driving experts on how to make day-to-day driving safer. BMW Experience Tour is a very successful platform for us to connect with our existing and potential customers across the nation. With this unique initiative, we wish to take a step closer to them and make them experience 'sheer driving pleasure' in the true sense."