Diwali Nostalgia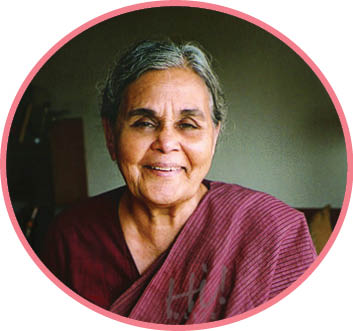 The festival of lights brings colour to lives; each day of Diwali is significant and has a story to tell. VIVA GOA asks a few of its avid readers about their favourite Diwali memory...
Mangala Wagle
Gandhian & Pratinidhi of Kasturba Gandhi Memorial Trust
Your favourite Diwali moment…
During Diwali, we are with our loved ones, so I cook some dishes and feed them. I feel I can express my love through these things. I enjoy seeing them indulge in the food I have prepared.

Pallavi Dempo
Director, The Dempo Group &
Executive Director, The Navhind Times
Your favourite Diwali moment…
The essence of Diwali for me is the Dempo family getting together to worship and celebrate. The coming together of young and old at our ancestral home is joyful and means more to me spiritually than I can say. There is no doubt, family bonding counts among my most favourite festive moments!

Praveen Kadle
Managing Director of Tata Capital Ltd,
President, Shree Chitrapur Muth
Your favourite Diwali moment…
Frankly, Diwali as a whole has a special place in my heart. The festival brings fond memories of my early childhood, when we had family get-togethers at our place or the home of some close family member.
It was always great fun with sweets, fire crackers
and gifts of new clothes.
Over the years, these get-togethers have become more subdued, but bhaubhij, Laxmi pujan and narak chaturdashi celebrations early in the morning are still my favourite moments.

Meghna Caculo
Director, Caculo Group
Your favourite Diwali moment…
Festival of Lights, celebrations, sweets, lights, rangoli, firecrackers… all these are associated with Diwali and rightfully so.
But for me the most favourite moment is the ovalni aarti of all the menfolk of the house. Performing this ritual to my husband and sons gives me a feeling of elation, as though I am acknowledging their victory and success in work and studies. This is a great feeling indeed.

Prashant Nadkarni
President, Shree Mahalaxmi Devasthan, Bandora
Your favourite Diwali moment…
Diwali means the festival of lights, bonding with family and meeting friends. Along with this, we follow rituals beginning from Rama ekadashi (Krishna puja) Gurudwadashi and Vasubaras (sadguru and cows puja) Dhantryodashi (dhanpuja) narak chaturdashi (showing diyas), Laxmi puja and bhaubhij (respecting the relationship of brother and sister). Happy Diwali to all!

Dr Aparna Khaunte
Gynecologist
Your favourite Diwali moment…
My favourite Diwali moment is ovalni aarti (where I perform aarti to all the men in my home) and lighting up my house with traditional oil diyas which brighten up the place and create a beautiful festive effect.

Vishal Agarwal
Managing Director, Bavaria Motors
Principal Dealer of BMW in Goa & Pune
Your favourite Diwali moment…
My favourite Diwali moment is when I see the streets lit up and happiness all around. The whole upliftment of mood brings positivity everywhere. Our entire family along with all the Bavaria family comes together for Laxmi puja, which makes me proud and it feels great.

Shrinivas Nayak
Chartered Accountant &
Director, Pride Group of Hotels & Casinos
Your favourite Diwali moment…
My favourite Diwali moment is signing bonus cheque for the 2,500 members of my Pride family and performing Laxmi poojan in all our properties with prayers. We resolve to add more members to the Pride family in the coming year.