My better half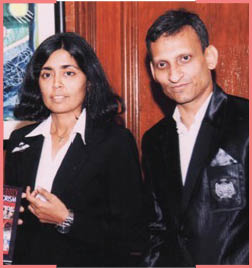 In celebration of women's day, we ask one half of several prominent Goan couples to cast a light-hearted look at the other and rediscover their companions through some special moments they share In celebration of women's day, we ask one half of several prominent Goan couples to cast a light-hearted look at the other and rediscover their companions through some special moments they share
Major DR Deepak RAO (President's Rank Awardee)
on
Dr Seema Sinari Rao (India's first woman commando trainer)
What do you feel is your wife's strongest quality?
Dr Seema, aka Sam, is my buddy and partner in helping to modernise outdated anti-terror training. She is a woman of her own achievement.
One of her strongest qualities is never giving up. She refuses to quit no matter what. Using this trait, she has achieved her IAF wings by skydiving from 5,000 feet, became the senior most female instructor in Bruce Lee's jeet kune do, got a gold medal in her Himalayan Mountaineering Institute course and finished her leadership and management programme at 48 years from Westminster University. She has become an icon in today's world, shattering barriers and proving that a woman can do anything.
One unforgettable memory you both share...
Sam and I were at a forces location conducting shooting training for commandos. She told me that she could hit a target when her mind is at peace, but wondered whether she could do the same under stress.
I knew I had to convince her that she was the best. I picked up a small target, walked to the end of the range and told her to shoot it as I held it above my head. She first thought I was joking, but I was adamant. Sam sensed the firmness in my voice, and lifted the AK 47 in her hand. I had never stood on the other end of a firearm, but I knew she would not miss. She is my life and I was ready for any consequence. Within seconds, she had fired six bullets into the target. I felt the bullets whiz past me and hit the mud behind me. She put the weapon down, came running to me and embraced me with tears in her eyes, and said,"Don't ever ask me to do something like that again. You trust me with your life. I love you more than ever. And yes, I'm convinced once and for all that I can shoot accurately under stress."
Read the full article in 'Viva Goa' magazine copy.
Viva Goa magazine is now on stands. Available at all major book stalls and supermarkets in Goa.