Sagar Kurade new president for All India Food Processors' Association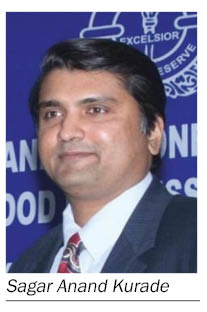 Sagar Anand Kurade has been chosen as the new president of the All India Food Processors' Association (AIFPA). The AIFPA is a 73-year-old premier association of food processors and manufacturers in India. As a nodal agency for India's food processing industry, it guides central and state governments on policy matters, while providing a platform to food processing companies in India to communicate their point of view.

Sagar Kurade, a native of Goa, has been associated with the industry for the last 15 years. After completing his Masters in Business Administration (MBA) in 1996 from the University of Hartford USA, he started his career in the telecom sector. He moved back to India in 2000 and has since worked with Suman Project Consultants Pvt Ltd in various positions, a leading consultancy in India dedicated to the food processing sector. He is currently the chairman and managing director with the company.

Sagar Kurade is an active member of the Industry Associations in India. He earlier served as the chairman of its Task Force, as well as the vice president of the AIFPA.