The new face of Panjim Gymkhana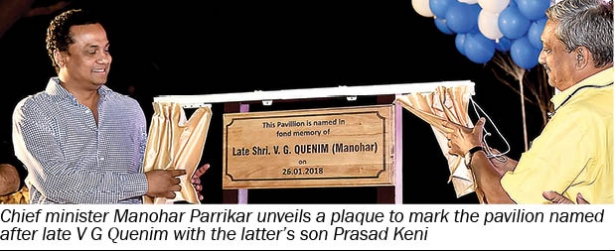 Chief minister Manohar Parrikar recently inaugurated the renovated complex of Panjim Gymkhana to much fanfare.
The new complex offers state-of-the-art sports facilities as well as other amenities including a fine dining restaurant, party lawns and more. Dignitaries and members of the club attended the event. Parrikar complemented the club's executive committee members and expressed his willingness to support it in whatever way he can.
Various personalities who have contributed towards the renovation of Panjim Gymkhana were felicitated along with all its past presidents. Floral tributes were paid to late Dayanand Bandodkar, the founder of the club, and the contribution of his family to its success was well appreciated.
President of Panjim Gymkhana Manoj Caculo welcomed the guests, and a brief presentation on its history was delivered by historian Sanjeev Sardesai. Club secretary Rajesh Counto proposed the vote of thanks. The event was compered by Dr Ajay Vaidya.