Javeri's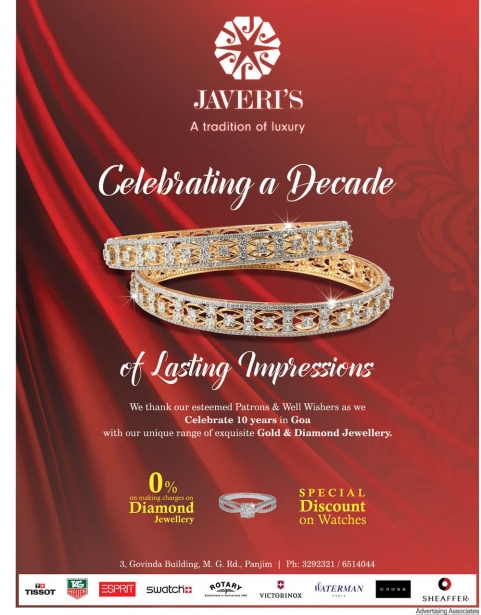 'Satiny hues'
A few years ago Javeri's observed that there was a demand for premium products in Goa. Customers of gold, diamond jewellery and watches were looking for genuine quality, honest prices and also the convenience of being able to find all these under one roof. With this idea Javeri's felt the need to fulfill this and build a bond of trust with their esteemed Goan clientele.

Javeri's has laid maximum emphasis on building trust and a relationship with their clients. It has abided to its guiding principle that in the long run, its business is about relationships – one client at a time. Its brand's glitter and glow jewellery gives one the kind of sparkle that makes one stand out in a crowd.

Javeri's carries a wide portfolio of premium products. Its jewellery range includes 18 karat and 22 karat hallmark plain gold jewelry, certified diamond studded jewellery and colour stones with diamonds. Apart from jewellery, it carries several other premium products such as international brands of watches and pens, imported 24 karat devotional frames and idols.

Javeri's also showcases a wide variety of imported jewellery, wherein each item has been carefully sourced and designed for its esteemed patrons. Its 'made to order' jewellery can be delivered as quickly as within 48 hours and never exceeds 12 days.

To celebrate its 10th anniversary in Goa, Javeri's is offering 'no making charges' on diamond jewellery and 20 per cent off on making charges on gold jewellery. International branded watch lovers can also look forward to attractive festive offers.

This festive season one can find at Javeri's a wide variety of fine, exquisite jewellery that will complement any attire, for all occasions.