Farm to table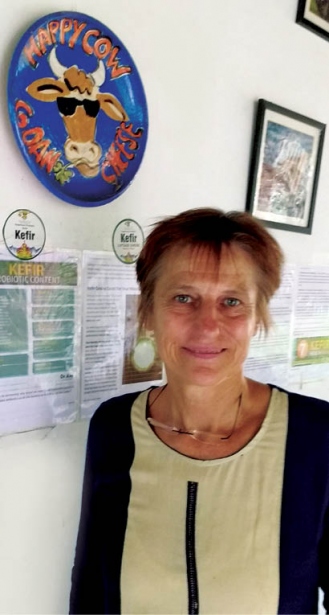 Barbara Schwarzfisher imbibes the dedication of her agrarian upbringing in Germany at her popular fromagerie in Siolim
One wouldn't normally associate Goa with quality cheese, but a trip to any big supermarket is certain to open eyes. And we aren't talking about the imported variety. For many hungering for a taste of Alpine delight, Swiss Happy Cow is their first pick.
This wealthy range of delightful cheeses first took birth as an attempt to satisfy a craving for a taste of home. Born and raised on a farm in Germany, but having spent a significant portion of adult life in Switzerland, Barbara Schwarzfisher had an almost innate love for quality cheese.
She first arrived in Goa two decades ago and found herself returning to the state multiple times on her two-year journey across India. When she finally decided to settle here permanently 15 years ago, Schwarzfisher was faced with a dilemma. At the time, supermarket shelves rarely bore quality cheeses, and without access to her favourite food, she would sorely miss the tastes of home.
So she picked up where she left off from and brought her home right here to Goa. Schwarzfisher initially studied hospitality, having left Germany for Switzerland at 17 years to do so. After working in hotels for 15 years, she gave it up for the quiet life in the mountains, studying the art of cheese-making for two years before taking her cows into the Alps to spend the summers caring for them, milking them and making her favourite varieties of cheese.
Here in Goa, life revolves around the fromagerie in Siolim, a quiet home-and-workspace filled with large stainless steel tanks, a walk-in humidified refrigerator, laid back furniture, smiling faces of workers and a couple of yapping dogs.
Read the full article in 'Viva Goa' magazine copy.
Viva Goa magazine is now on stands. Available at all major book stalls and supermarkets in Goa.