Manek Gem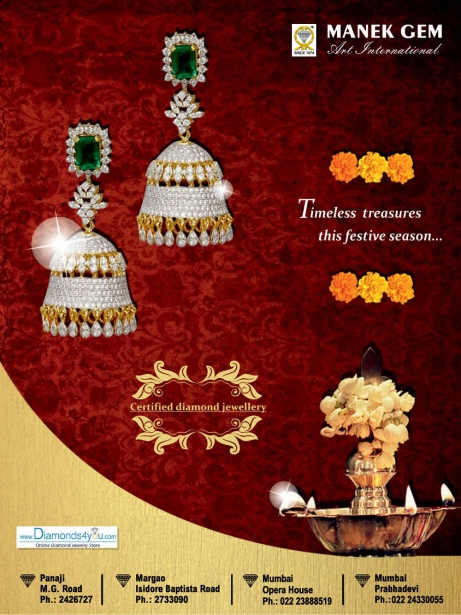 'Adorn the Best'
Manek Gem Art International is a trusted name in Goa and Mumbai for its certified diamond jewellery. It provides an amalgamation of jewellery designs which blend the magic of the past and present.

With 40 years of experience in diamond jewellery manufacturing, wholesale and retail, Manek Gem Art International has earned the trust and confidence of its customers with intricate and exquisite designs.

With their head office in Opera House Mumbai, the capital of India's diamond trade, and three showrooms in Goa, Manek Gem has been serving quality products to its customers through the years. The pieces available at its stores are lab certified and of the best finish.

Well-trained professional in-house jewellery artists help develop the most beautiful designs. Being in Mumbai and supplying jewellery wholesale to many jewellers helps Manek Gem be on the apex of the market in India for constantly upgrading its trends to coincide with that of the international market.

Manek Gem believes in giving the right knowledge to its customers, and has well-trained staff to pass on information on diamonds, cuts, clarity, colour and carats. This Diwali you will see a huge assortment of handcrafted gold jewellery studded with diamonds.

Trust is the most important aspect in the business. With hard work, quality products, customers support and the help of well-wishers and friends, Manek Gem has become a household name in Goa. For the last 15 years, it has given customers the ultimate choice from certified diamond jewellery to certified solitaries, with lifetime buy-back options.