World's first book on identifying bombs released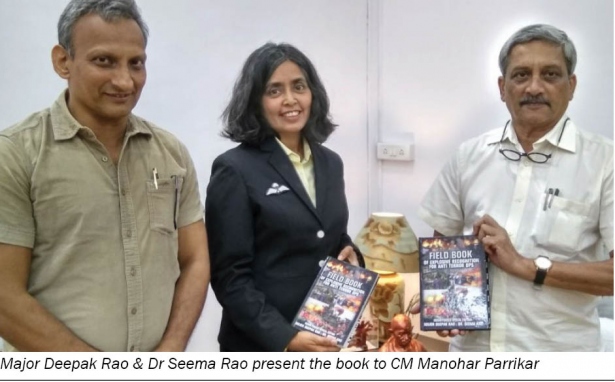 India's only woman commando trainer Dr Seema Sinari Rao and Indian army pioneer of close quarter battle Major Deepak Rao recently presented the world's first book on identifying modern bombs 'Field book of Explosive Recognition for Anti Terror OPS' to chief minister and former union Defence minister Manohar Parrikar.
The book was earlier launched in Delhi by union Home minister Rajnath Singh, union Home secretary Rajiv Gauba and union minister of State for External Affairs General (Retd) V K Singh. This book was produced exclusively for the Indian forces with Rao's personal earnings, without grant, donation or sponsorship. A thousand copies are being distributed free to
Indian forces.
The couple also presented copies to distribute to the Goa Police for their benefit. This book is aimed at the security personnel who conduct security scrutiny at road checks, government installations and other vital check points, to enable field policemen to identify bombs, improvised explosive devices (IED) and explosives, and also to stop their transit in the battle against terrorism.
India's first and only Woman Commando Trainer Dr Seema Sinari Rao is a daughter of Goa.