Aakash Educational Services for medical & engineering entrance exams now in Goa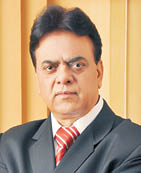 Coaching institution Aakash Educational Services, which completed its silver jubilee last year, opened its first Goa branch at Gera Imperium 1 in Patto, Panaji.
Founder and managing director of Aakash Educational Services J C Chaudhry said, "Students aspire to shape their careers in medicine and engineering after higher secondary school, but not all of them make the grade finally. The reason is not the lack of knowledge but the lack of proper guidance. Here, the role of coaching institutes becomes vital in making the task of success easy and certain.
"However, the selection of right coaching at right time is the steeping stone of success. I believe the presence
of Aakash in Goa will begin a new era for such aspirants, who seriously want to make their career in medicine and engineering."
Aakash Educational Services has rendered top rank holders in medical and engineering entrance examinations all over the country for over two decades. The highlights of Aakash include highly qualified and competent faculty, small batch size, classes in English and Hindi, easy-to-understand and relevant study material, Aakash iTutor – a holistic e-learning package anywhere anytime, integrated courses for board and competitive exams for students of classes 11 and 12, and a highly competitive environment.
Chaudhry added, "Last year, our students secured top ranks in various medical and engineering entrance exams. In CBSE (NEET UG)-2013, 27,260 of our students got selected, with eight in the top 10 ranks; 15 ranks in the top 20 and 49 ranks in top 100 all-India rank in the general category. Also, last year in engineering: there were 5,174 selections in JEE (Main) with 10 ranks in the top 50 and 17 ranks in the top 100. In JEE (Advanced), we bagged 913 selections with nine ranks in the top 50 and 16 ranks in the top 100 in the general category."