Resort within a hotel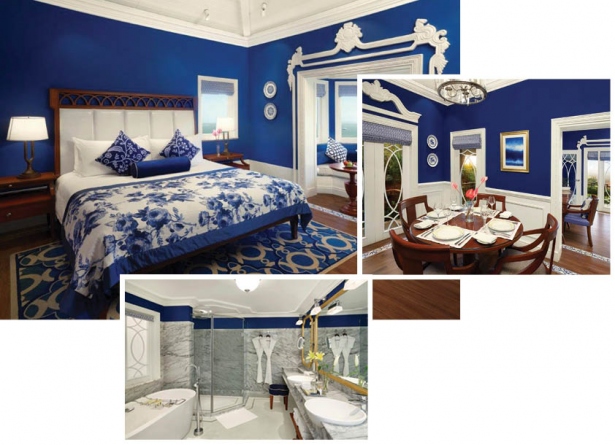 Cocooned in the expanse of Vivanta by Taj Fort Aguada is Taj Hermitage, a set of exclusive self-contained villas that have hosted presidents and prime ministers from around the world
From your vantage point, all you see is carefully manicured lawns, glistening swimming pools, the sturdy bastions of a 17th century fort and the sparkling Arabian Sea. The Taj Hermitage at Vivanta by Taj Fort Aguada takes privacy to a whole new level, born decades ago of necessity.
Back in 1982, when tourism in Goa was that raw, charming, undiscovered sort, then prime minister Indira Gandhi invited the heads of Commonwealth countries (CHOGM) to a retreat in Goa. Taj Fort Aguada rose to the occasion, constructing a hotel within a hotel within 12 months to accommodate and entertain her guests. The luxury villas are all self-contained, super-deluxe cottages affording the best view – perhaps in India. Over the decades they've played host to celebrities from around the world and at one point were possibly the most luxurious cottages in Goa by far.
As more luxury hotels sprung up across Goa through the years, Taj Hotels decided to give The Hermitage a revamp, recalling that legendary luxury that gained the approval of sticklers for quality such as Indira Gandhi and Britain's former prime minister Margaret Thatcher. Despite the renovation, it has preserved the charm of its 80s ambience and simply updated itself with amenities.
The accommodation
Each of the Taj Hermitage's 15 villas boast large private gardens and spectacular views of the sea, beach and swathes of lush greenery. They are built to resemble Portuguese-inspired Goan mansions, painted in dramatic colours interspersed with white piping and featuring Mangalore clay tiles, stucco mouldings, wide porches and columns.
Guests can opt for a single bedroom villa facing the sea or garden, or a two-bedroom villa facing the bay, or go all out and choose to stay in the presidential villa with three bedrooms. The gorgeous private lawns are occupied by garden furniture and parasols for an inviting breakfast overlooking the pristine view, or a laidback weekday sunset.
Read the full article in 'Viva Goa' magazine copy.
Viva Goa magazine is now on stands. Available at all major book stalls and supermarkets in Goa.