National fire service day observed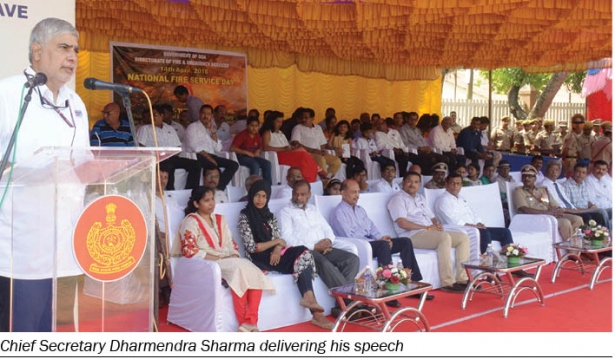 National Fire Service Day was observed by the Directorate of Fire and Emergency Services (DFES) at St Inez recently.
The theme for this year was 'Fire Loss is National Loss – Let us adopt Fire Safety Measures'. Chief Secretary Dharmendra Sharma was the chief guest. Chairman of EDC Ltd Sidharth Kuncalienker, mayor of Corporation of City of Panaji Vithal Chopdekar and director of Fire Service Ashok Menon were also present.
The programme began with Sharma, placing the wreath on the Firefighter's Memorial, inspecting the Ceremonial parade and receiving the Guard of Honour. Ashok Menon gave the welcome address.
Sharma pointed out that Fire Service Day is observed to pay homage to the martyrs who sacrificed their lives in the course of duty to ensure the safety and wellbeing of the community. "In the changed circumstances and sustained economic and industrial growth activities, the fire service department plays a key role in ensuring safety. However, to cope with rapid urban emergencies, the use of the latest technologies and techniques is also equally important," he added.
He later honoured firefighters for their commendable contribution and awarded prizes to the winners of poster drawing competition organised by the department.
The function was followed by live firefighting, a search and rescue demonstration and an exhibition.