Prominent International Commercial Law Seminar held in Goa.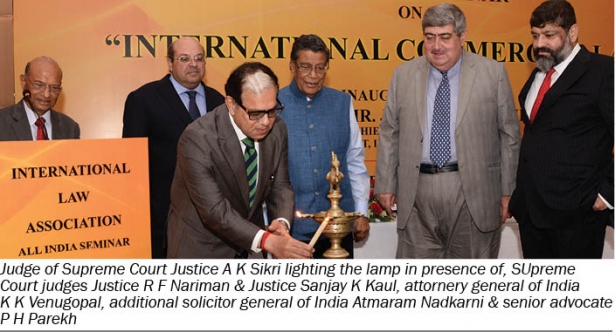 The International Law Association, Regional Branch, India, recently organised an All India Seminar, in Goa Marriott Resort, Panaji. The theme and topics for the event this year based on 'International Commercial Law'.
The seminar which has always had the attendance and participation of the most reputed, prominent legal luminaries of the country, this year boasted of the participation of senior judges of the Supreme Court of India such as Justice A.K. Sikri, Justice R F Nariman and Justice Sanjay Kissan Kaul.
Also in attendance were the top law Officers of the country and state of Goa namely the attorney general of India K K Venugopal, additional solicitor general of India Atmaram Nadkarni, and the advocate general of Goa Dattaprasad Lawande. Apart from the these high ranking law officers the secretary of the International Law Association India and senior advocate P H Parekh was also present.
The inaugural session was followed by two working sessions. The topic for session I, was 'Rule of law and International Investment Law' which was chaired by Justice R F Nariman, of the Supreme Court.
Additional solicitor generals of India, Tushar Mehta and Pinky Anand, senior advocate Aryama Sundaram, senior advocate Darius Khambata, advocate Venkatesh Dalwai and senior Patner Karanjawala and Company Nandini Gore also participated in the first session.
The Topic for the second session was 'Development in International Commercial and Consumer Laws', It was chaired by Justice Sanjay Kissan Kaul and co-chaired by Justice Manmohan, Judge of Delhi High Court.
The Speakers included Judges of the High Court of Delhi namely Justice Rajiv Sahai Endlaw, senior advocates Arvind Datar, Arun Mohan and K V Vishwanathan and founding partner, AZB and partners Zia Mody.
The chief justice of India Justice Dipak Mishra who was to attend as a chief guest could not come, however his speech was read by advocate Nadkarni.