The Balancing Act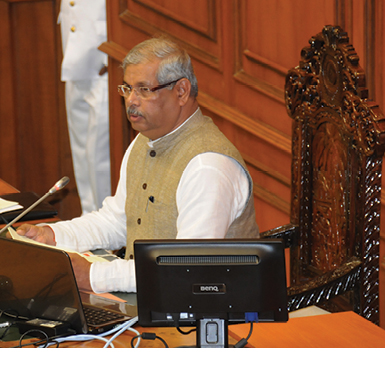 As the Speaker of the Goa Legislative Assembly, RAJENDRA ARLERKAR is responsible for maintaining the fine balance between the ruling party and the opposition so that people's issues are well represented. He finds that juggling work with family time is also a balancing act that is no less challenging
Rajendra Arlekar, who recently turned 60, got into politics 25 years ago. The ups and downs of the profession did not dampen his spirits as he feels that politics is not just restricted to being an elected representative of the people, but is more about the social service he can render. He talks to VIVA GOA about the challenges of the job as the Speaker of the Goa Legislative Assembly, how he balances work and family life,
his love for Indian classical
music and books, and his philosophy in life.
What are your responsibilities as Speaker of the Goa Legislative Assembly?
The basic responsibility of the Speaker is to run the house smoothly and in the interest of the public. Since all Members of Legislative Assembly (MLAs) are elected representatives of the people, I must give equal opportunity to ruling and opposition MLAs to speak, ask questions and get answers.
This is also a challenging job and one cannot think that it will always go smoothly. My job is to ensure that this does not lead to chaos.
Often, it is a fine balancing act.
How did you get into politics?
I used to work for the Rashtriya Swayamsevak Sangh (RSS) in Goa. Along with Shripad Naik and Laxmikant Parsekar who were also working for the RSS, I decided to enter politics
in 1989.
The transition from RSS to the Bharatiya Janata Party (BJP) was natural, and we found that our ideology and thinking in both parties was complementary to each other.
Read the full article in 'Viva Goa' magazine copy.
Viva Goa magazine is now on stands. Available at all major book stalls and supermarkets in Goa.