CM welcomed onboard Angriya cruise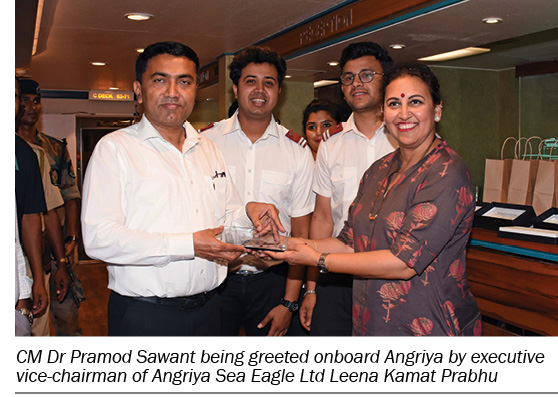 Chief Minister Dr Pramod Sawant recently visited Angriya, Goa's very own and the first Indian flag-bearing domestic cruise ship, at Mormugao Port, Vasco, along with minister of urban development & Mormugao MLA Milind Naik. MPT Chairman Dr E Ramesh Kumar and various state and central officials.
The CM's tour of the ship included a visit to the engine room, forward heli deck, Gaaj restaurant, luxury pods and underwater cabins. He also appreciated the infinity swimming pool onboard Angriya that has successfully reactivated the nostalgic Goa – Mumbai sea route for travelers after a gap of three decades and connected the holiday capital of India to the financial capital of India.
In its second sailing season, the Goan owned and managed cruise ship has provided a boost to the Indian cruise tourism sector and has ferried 75,000 plus passengers in over 200 plus voyages thus placing the sea route on the global map.
Executive vice-chairman of Angriya Sea Eagle Ltd Leena Kamat Prabhu presented a memento to Dr Sawant and informed him of the special measures taken to showcase maritime history and marine diversity of Goa, promote green ship mandates and set high marine tourism goals onboard Angriya.
The chief minister appreciated the efforts of team Angriya and hoped that more travellers opt to travel and holiday on Indian seas and also use sea routes for water transport as well as corporate and social events. He expressed a desire to sail onboard Angriya soon from Goa to Mumbai.
Angriya sails every alternate day from Goa-Mumbai-Goa and is designed as an outward looking ship to give the guest a complete 'at the sea' experience. With two vast decks, one-of-its-kind infinity pool and an array of at-sea activities, Angriya promotes local cuisine, Konkan cultural and ecological diversity.
The CM also interacted with the crew and hospitality team onboard Angriya and appreciated the technical skills and efforts of the all-Indian team in this freshly emerging sector of marine and coastal tourism.
Leena Kamat Prabhu on behalf of team Angriya expressed pride and happiness on the visit of the CM and articulated Angriya's commitment to connect people, cultures and experiences at sea onboard Angriya.