CM inspects Sada garbage treatment plant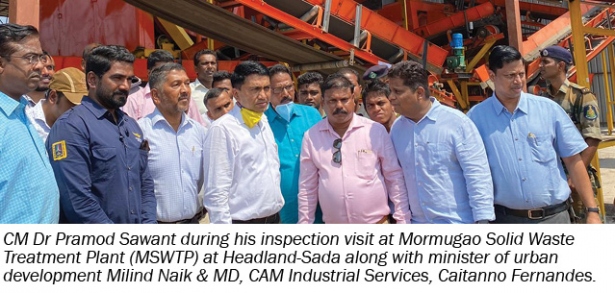 Chief minister Dr Pramod Sawant recently visited the newly-commissioned garbage treatment plant aimed at treating waste lying at Mormugao Solid Waste Treatment Plant (MSWTP) at Headland-Sada for several years.
He said that the state government is bearing a cost of around Rs 400 crore annually to treat this legacy waste generated during the tenure of erstwhile governments for about 50 years.
He was informed that the machinery to treat around 1.50 lakh cubic metre of legacy waste in the land belonging to the Goa State Urban Development Authority (GSUDA) at Headland-Sada was set up within 20 days by the contractor.
"Installation and commissioning of the garbage treatment plant within a short span has been a great achievement for the government. The state government is planning to install more plants around Goa to resolve the garbage menace," he said.
Minister for Urban Development Milind Naik, Vasco MLA Carlos Almeida, Margao Municipal Corporation chief officer Gaurish Shankhwalkar, councillors, contractor of Gammon India Pvt Ltd, engineers and supervisors were also present.
The contractors appointed towards remediation of waste from the dump sites within the state of Goa, CAM Industrial Services, have invested approximately Rs 8 crore on the Headland Sada dump yard, mentioned managing partner of the company, Caitanno Jose Fernandes.