Mindful Wellness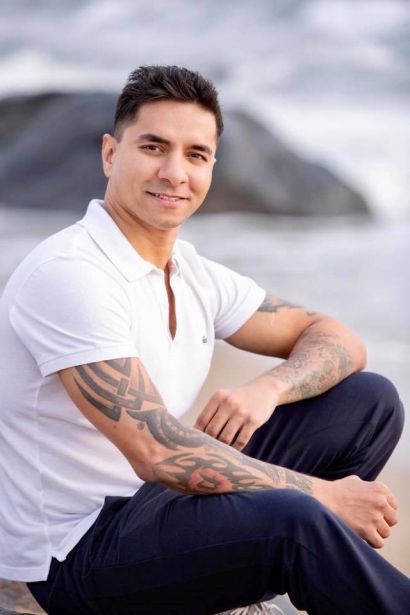 Renowned holistic lifestyle coach Luke Coutinho discusses industry trends and reconnects with his Goan roots
Lifestyle changes and their implications on our health are not unknown. We often get so carried away with our busy lives that we turn a blind eye to the damages our choices inflict on us.
Bringing about a healthy lifestyle change can be a difficult task. That's where Luke Coutinho, a globally-renowned holistic lifestyle coach in integrative and lifestyle medicine, plays an important role.
He is also the founder of You Care – All about YOU by Luke Coutinho. His approach towards prevention and healing revolves around four important pillars: balanced nutrition, adequate exercise, quality sleep and emotional detox. His programmes work towards helping individuals with severe illnesses and lifestyle diseases to reduce pain and suffering using an integrative approach. This approach has positively impacted the health of children and adults to achieve their wellness goals.
VIVA GOA gets up close and personal with Luke Coutinho about his Goan roots, lockdown days and his journey into the fitness world.
Tell us about your childhood and growing up in Goa.
Growing up in Goa was beautiful. I had a great childhood with my parents all through. We are a family of six, so it was always a lot of fun. We had access to the great outdoors, nature, birds, gardens and snakes, beehives and scorpions in our village. It was a very adventurous and eventful childhood.
Although the pace of life was slower than metropolitan cities and more laid back, I think that is the ideal environment children should grow up in. Things shouldn't be rushed and we should have our own space to grow and for it to happen at the right time.
Tell us about the early days of your career in the wellness industry.
To be honest it was difficult initially. At the Institute of Hotel Management Goa, I studied food science and nutrition, but never really pursued that line immediately and went into the hospitality and the corporate world. After a couple of years, I moved back into wellness, nutrition, and lifestyle medicine, so it was challenging to restart and establish in a field where there were so many well-established professionals and brands already.
But it went great. I went with the philosophy that if I continue delivering my best to each of my patients and clients, it would build my brand. I focused on being effective and delivering results, and within six months we were a global brand.
How do you help your clients as a holistic lifestyle coach and an expert in integrative medicine and lifestyle medicine?
We first spend a good amount of time with the client to understand their condition, lifestyle, reports, history, and diagnose the root cause of their health problem. While our focus is to make them feel better and improve their symptoms, we never ignore the root cause – whether it's obesity or cancer, or Alzheimer's. We cover all aspects of lifestyle in our diagnoses – nutrition, sleep, exercise and movement, emotional health, family history, inner and outer environment, mind sets, and beliefs.
Based on what we understand from our diagnosis, we create a strategy involving experts and professionals from our integrative team to work with the client to handhold them through the journey. The team involves doctors, nutritionists, yoga experts, emotional counsellors, life coaches, psychologists, homeopathy – whatever we think would suit the patient best, and where each of these experts guide the patient to do what they need to do to feel better. Apart from that, we also run meditation and pranayama programmes by the Art of Living and Heartfulness wherever we feel the need.
You have co-authored bestseller books with actresses Shilpa Shetty and Anushka Shetty. Tell us about the experience.
It's been a great experience with Shilpa Shetty and Anushka Shetty and now two more Bollywood superstars. We have travelled together, written books and chapters in different countries, discussed content during our flights. It's been a fantastic experience getting to know each other, seeing how humble and down-to-earth they are. They are great people with great families and today we are great friends with a larger vision to do a lot of work together in the future.
How did you start Luke Coutinho Holistic Healing Systems?
The journey started with giving up my corporate job. I was with IBM for 10 years and before that in Dubai, Qatar, London. I gave up all of it because I saw a gap in a society where people were getting sicker and sicker. They were stuck in chronic illness despite the advancement in medicine, technology, availability of gyms, experts, and supplements simply because of their lifestyle.
So, I filled this gap and moved into lifestyle medicine. I gave up my corporate job and its comforts to start the journey. I had zero knowledge about how to run a business or experience on becoming an entrepreneur. For me, my business was the patient in front of me. If I got them to recover or even feel better, it's a successful business for me and that's how I got the second and third patient.
That was the start and then I gradually started hiring professionals who could manage aspects of the business where I did not have experience. Natashya, my wife, joined in too and she had a lot of experience in project management. We slowly built a team of elite professionals and experts in their respective fields to help us build this business.
How has the response been, especially in Goa?
The response in Goa has always been great as they wake up to health and embrace wellness and fitness at a more holistic level. We had a lot of clients from Goa while we were working from Mumbai and would fly down regularly to consult on their issues with cancer, diabetes, cardiovascular cases, etc., and wanted to move towards adopting a corrective lifestyle and integrative medicine.
Now, being in Goa, we see a lot of Goans approaching us for help too. Due to COVID we have moved everything online and have made plenty of self-help videos around lifestyle for arthritis, diabetes, Alzheimer's, cancer, etc.
We want people to make use of that free information, apply it to their lives and health.
In integrative and lifestyle medicine, we do not want people to jump off their medicines. Lifestyle is meant to run parallel with medicines. We are integrative medicine and not alternative medicine. We encourage people to integrate what is best for their health and condition over and above medicine, whether it is a change in nutrition, emotional health, yoga, managing the side effects of drugs, etc. We see awareness in Goa, which is great.
Read the full article in 'Viva Goa' magazine copy.
Viva Goa magazine is now on stands. Available at all major book stalls and supermarkets in Goa.