Never felt that kind of physical pain ever in my life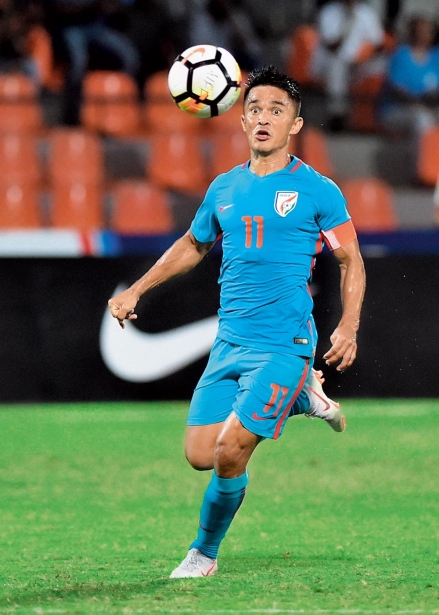 As the Indian Super League (ISL) Season 8 returns to Goa in a bio-bubble, national football captain SUNIL CHHETRI looks back at his COVID story and the beautiful game in Goa in an exclusive interview
When COVID-19 first spread its menacing tentacles across the world, the prevailing view was that those who were young, fit and healthy would stay largely unaffected. But as we – and ace Indian footballer Sunil Chhetri himself – have seen, no one is entirely immune.
So while studies have shown that people who are more physically active are less likely to be hospitalised and die with COVID-19, the virus can send even professional sportspersons reeling. And Chhetri is no ordinary sportsperson.
He is the fourth highest international goal scorer among active players and 13th highest of all time (June 2021), as well as a recipient of both the Arjuna Award and the Padma Shri. The 37-year-old from Secunderabad, Telangana has spent most of his life on the turf, starting a professional football career as an 18-year-old in 2002 at Mohun Bagan. Along the way, he has played for Goan clubs including Dempo Sports Club and Churchill Brothers, and took the Indian spirit across the seas to play for the Kansas City Wizards in the Major League Soccer and Sporting Clube de Portugal in the Primeira Liga.
His punishing fitness regime kept him at the top of his game throughout. Despite that, COVID-19 took a lot out of him. The previous Indian Super League (ISL), held in a bio-bubble in Goa, ended on a gloomy note for Chhetri as his club FC Bengaluru lost their semi-final match and he announced just weeks later that he had tested positive for the novel coronavirus.
He admitted to feeling completely out of sorts, with physical pain he had never felt ever before. For a man who has spent most of his life on the move, recovery was hard. The footballer, who has spent nine years leading the Indian national team, was forced to take things slowly. He banked on a professional medical team to get him back on his feet in a healthy manner.
The debilitating disease caused him to miss friendlies with his compatriots against Oman and the United Arab Emirates. A carefully designed recovery routine ensured he was able to head to the All-India Football Federation camp and his first match since COVID-19 with Bengaluru FC against Tribhuvan Army FC.
As ISL Season 8 prepares to return to Goa for another consecutive season in a bio-bubble, Sunil Chhetri will have his fingers crossed that the novel coronavirus is no longer among the challenges he will face on his return to Goan turf – chief among them being playing without enthusiastic local spectators.
The national captain speaks to VIVA GOA about his fight with COVID-19 and football in Goa in an exclusive interview.
What was your reaction when your test results came positive?
My first reaction was to keep calm and make sure I take all the necessary precautions that someone who has tested positive should take. I reached out to everyone I was in touch with and asked them to get tested right away.
What were the initial steps in your treatment?
I isolated, rested well, even though I was restless. I tried exercising a little, but tried making sure I wasn't doing too much.
Tell us about your experience fighting the virus.
When you don't have COVID-19 and you think or read about it, you imagine that you will be fine, that since you are fit, nothing will happen. But I really struggled. I have never felt that kind of physical pain ever in my life. It was brutal.
What according to you was the most difficult part of it all?
I think it's both – the physical and the mental aspects. I like to believe I am a rather fit person, but COVID-19 took its toll on me in a very severe way. It also takes a toll on you mentally. I, for one, can't sit without activity for too long. But the recovery process leaves you with little option.
Post recovery did you experience any symptoms?
I got tested and only when the results were negative resumed training, but I should tell you it was tough. Any illness that keeps you out for a while takes its toll when you resume training if you are an athlete. It was no different for me. I knew it would be a process, and I could feel the fatigue when I resumed training.
Read the full article in 'Viva Goa' magazine copy.
Viva Goa magazine is now on stands. Available at all major book stalls and supermarkets in Goa.