Centenary celebrations for Chowgule Group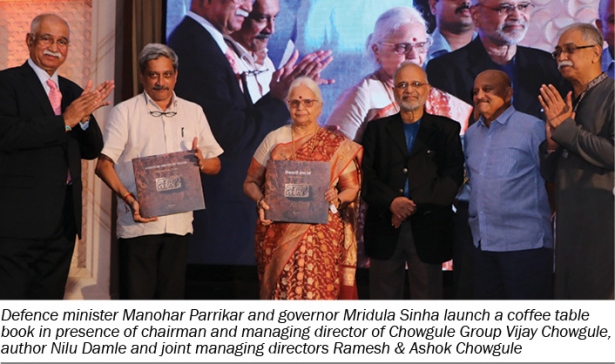 Chowgule Group completed a century as a business entity this year, and it recently celebrated the various landmarks of the company throughout the past 100 years.
At a celebratory function at Grand Hyatt Goa organised to mark the occasion, defence minister Manohar Parrikar and governor Mridula Sinha released a coffee table book, which encapsulates the path-breaking journey of the Chowgule Group in pictures and short essays. The book's narrative is in English and Marathi. It has been authored by well-known Mumbai-based writer Nilu Damle.
A special logo for the centenary year was released by Parrikar in the presence of the Chowgule family. A short film about the achievements of the group through the 100 years was also screened.
Governor Mridula Sinha said, "I am happy to see the four generations come together to celebrate 100 years of the Chowgule Group. It's the family values imbibed by the elders which has translated into the creation of this big family – the Chowgule Group. The Chowgule name is tied in and is an integral part of Goan's industrial journey. I wish the Chowgule Group all the best in the many years to come."
Parrikar added, "I congratulate the Chowgule Group on this wonderful achievement. It makes me proud that a Goan company has made such significant progress across 100 years. Innovation has always been the hallmark of the Chowgule Group ever since its mining days. Excellence in education has been a focus area of the company which lead to Chowgule College being awarded autonomy, making it Goa's first autonomous college."
The company's chairman and managing director Vijay Chowgule said, "It's been 100 years since the start of this journey and it hasn't come easy. The company was started by my grandfather from humble beginnings and has grown to what it is today. I have been fortunate to work closely with the many architects of Goa's industrial growth – my grandfather, father, uncles and brothers. I learned so much from each of them. The journey over 100 years has had good and hard times, and we are delighted to cross the 100 mark.