The Goddess Born out of Gold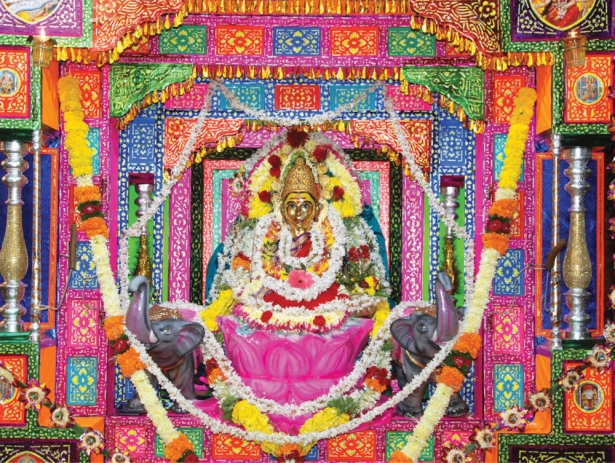 In Borim in Eastern Goa, the nine days of Navratri are filled with a special kind of glittering devotion for Goddess Navdurga
When one casts a glance at the goddess at the Navdurga Devasthan in Borim North Goa, one is totally mesmerised. When you see the sanctum sanctorum, you find the goddess not sculpted out of stone or cast in a combination of five metals (panchdatu), but a goddess of pure gold!

And how did she come to take form in this glittering yellow metal? Sunil Saukar, president of the Navdurga Devasthan Borim, narrated an interesting story that shed light on her golden glory. Back when the Portuguese ruled Goa, there were many affluent families, with their riches coming from large land holdings.

These Goans usually had large palatial mansions to show off their status in society. Unfortunately, it was also a signal to bandits and raiders that a good fortune was to be had. The landlords in turn made gun-holes around the doors (which still exist), from where they fended off the thieves. Often this strategy didn't work.
The Saukar family from Borim owned large land holdings and lived in a very palatial mansion. But they were particularly wary of a rival family, who also moved around Goa raiding rich people. When their misadventures reached a peak, the Saukar family decided to outwit them. They collected ornaments and jewellery from all members of the family and hid the bundle in a safe place.

In the course of time, the Saukar family faced a personal dilemma – a misfortune visited their male offspring. They tried all available means to solve the problem, yet failed. Finally in desperation, they turned to their temple goddess for help. They made an angvon (vow): if the problem was solved, they would use the family gold bundled together to make an idol of the Devi. Much to their relief, the Devi answered their prayer. And in sheer gratitude and in fulfilment of their angvon, all the gold ornaments and jewellery was melted and moulded into an idol of the Devi now known as Kancholi Devi.


Read the full article in 'Viva Goa' magazine copy.
Viva Goa magazine is now on stands. Available at all major book stalls and supermarkets in Goa.