46th Navy Day celebrations in Goa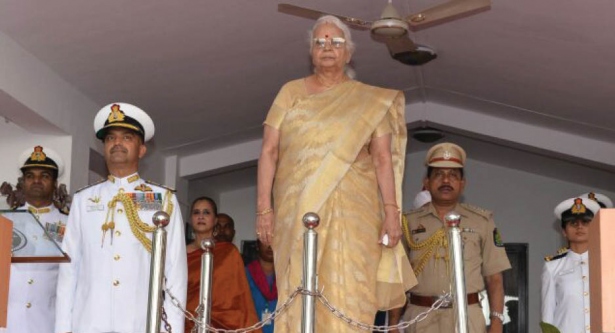 The 46th Navy Day was recently celebrated at the Navy House at the headquarters of the Goa Naval Area in Vasco. Governor Dr Mridula Sinha was the chief guest.
Minister for Water Resources Vinod Paliencar, minister for Panchayat Mauvin Godinho, judge of the High Court of Bombay at Goa, Justice Prithviraj Chavan and FOGA Rear Admiral Puneet Bahl attended the event.
Former chiefs of naval staff
Admiral Arun Prakash (retd) and Admiral Sureesh Mehta (retd) were also present along with a large gathering of retired and serving senior naval officers and civilian dignitaries.
A fly past by naval aircraft, search and rescue demo, high speed run by interceptor crafts and beating the retreat ceremony were highlights of the event. The governor released the Navy Day brochure and the event culminated with a grand sunset ceremony featuring an impressive illumination of naval ships