Fontainhas Lions claims trophy of Panaji Badminton League (PBL) first summer edition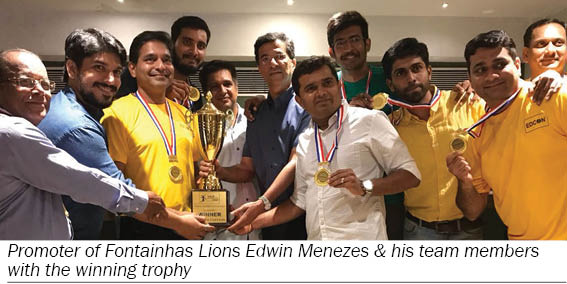 The first summer edition of the Panaji Badminton League (PBL) took place on the April 15 2018 at the Indoor Stadium, Campal. The four teams that participated were – the Mandovi Panthers, the Fontainhas Lions, the Campal Leopards and the Miramar Tigers. The Panjim Badminton League is a pioneering effort promoted by the owners of the 4 teams – Hillary Fernandes, Edwin Menezes, Mayuresh Dhume and Aniruddha Bhosle.
President of Goa Badminton Association (GBA), Narahar Thakur was the chief guest for the event, while secretary of GBA Sandeep Heble was also present. Each team played three games (one game against each opponent) in the six categories. The six categories at the league were masters (men's doubles), champions (men's doubles), challengers (men's doubles), centurions (veteran's doubles), finest blend (veteran's doubles) and mixed doubles. Each match consisted of one set of 21 points. Out of the four teams that participated, two teams, the Fontainhas Lions and the Mandovi Panthers progressed to the finals.
In the final match, the Fontainhas Lions won five out of six games against the Mandovi Panthers to claim the champion's trophy. The final score read 117-79.
Preparations are already underway for the winter edition of the PBL, which is scheduled later this year. More teams are expected to participate in what promises to be a stellar second edition.